What is SASE?
Secure access service edge, or SASE (pronounced "sassy"), is an emerging cybersecurity concept that Gartner described by some as that network security of the future for anything cloud.
Before we take a small dive into what SASE is, it is important to understand a little of the term itself. As it stands, existing network approaches and technologies simply no longer provide the levels of security and access control organizations in the cloud need. The thing is, these organizations demand immediate, uninterrupted access for their users, no matter where in the world they are located at. Maybe as a result of the pandemic, but there certainly is an increase in remote users and software-as-a-service (SaaS) applications, data moving from the data center to cloud services, and more traffic going to public cloud services and branch offices than back to the data center. All this calls for a different approach to network security.
SASE is the convergence of wide-area networking (WAN), and network security services like CASB and Zero Trust, into a single, cloud-delivered service model.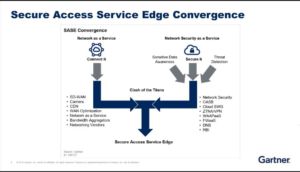 SASE and its' future
According to Gartner, "SASE capabilities are delivered as a service-based upon the identity of the entity, real-time context, enterprise security/compliance policies, and continuous assessment of risk/trust throughout the sessions. Identities of entities can be associated with people, groups of people (branch offices), devices, applications, services, IoT systems, or edge computing locations."
Also, according to Gartner, the SASE market will climb to $11 billion in 2024, up from $1.9 billion in 2019. In addition, Gartner forecasts that by 2024 at least 40% of large companies will have strategies to adopt SASE, up from 1% at the end of 2018.
Gartner expects that "by 2024, at least 40% of enterprises will have explicit strategies to adopt SASE, up from less than 1% at year-end 2018." A SASE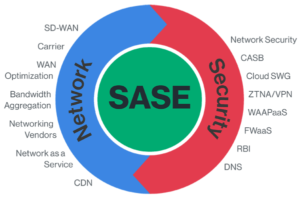 architecture identifies users and devices, applies policy-based security, and delivers secure access to the appropriate application or data. This approach allows organizations to apply for secure access no matter where their users, applications, or devices are located.
Here is a breakdown of how the SASE model can help your organization's network security posture:
Flexibility: With a cloud-based infrastructure, you can implement and deliver security services such as threat prevention, web filtering, sandboxing, DNS security, credential theft prevention, data loss prevention, and next-generation firewall policies.
Cost savings: Instead of buying and managing multiple point products, utilizing a single platform will dramatically reduce your costs and IT resources.
Reduced complexity: You can simplify your IT infrastructure by minimizing the number of security products your IT team has to manage, update, and maintain, consolidating your security stack into a cloud-based network security service model.
Increased performance: With a cloud infrastructure, you can easily connect to wherever resources are located. Access to apps, the internet, and corporate data is available globally.
Zero Trust: A Zero Trust approach to the cloud removes trust assumptions when users, devices, and applications connect. A SASE solution will provide complete session protection, regardless of whether a user is on or off the corporate network.
Threat prevention: With full content inspection integrated into a SASE solution, you benefit from more security and visibility into your network.
Data protection: Implementing data protection policies within a SASE framework helps prevent unauthorized access and abuse of sensitive data.
Your business matters. Protect it.
According to Gartner, "SASE capabilities are delivered as a service-based upon the identity of the entity, real-time context, enterprise security/compliance policies, and continuous assessment of risk/trust throughout the sessions. Identities of entities can be associated with people, groups of people (branch offices), devices, applications, services, IoT systems, or edge computing locations."