We focus on helping organizations and individuals reduce their attack exposure with our cyber essentials

Def-Logix was founded in 2008 to help solve cyber threats being experienced by government agencies of the United States. The founder of Def-Logix, Paul Rivera, noticed through his own work as a cyber exploit specialist and software developer that our devices are increasingly being connected to the internet. This means hackers now have multiple ways to steal our sensitive data or identity. Not only can they exploit our computers, but they can also get into our cars, mobile devices, and more.
Def-Logix was founded on the mission to develop the technology to stop hackers and protect people's most vital computer systems. Through our government-funded research and development, we have produced a great line of security products and services to benefit everyone from the small business owner to the largest of enterprises.
At Def-Logix, we strongly believe that being innovative and informed allows us to remain ahead of security issues to protect the assets businesses care most about.
We are a small business, too, and we care deeply about the cyber threats out there that threaten businesses and customers alike.
We are here to help.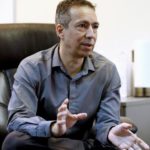 Paul Rivera
CEO & President
Mr. Rivera founder and CEO of Def-Logix, Inc. has 20+ years of cybersecurity experience in the Government contracting industry.  He attended the University of Texas at San Antonio, the leading university in Cyber Security, where he obtained a bachelor's and Master's degree in Computer Science and Information Technology/Information Assurance Concentration. He is an expert in Information Technology specializing in red/blue team tool development, and computer and network security. His experiences are strongly leveraged in the organization combined with his interest in cybersecurity applied research and development. Paul is an active member of the local community and has established strong partnerships with the University of Texas at San Antonio (UTSA), Project Quest, and the Emerging Leaders organization. Always a strong advocate for fostering new talent and providing internships/training for high school and university students. As president and CEO of Def-Logix, Inc. Paul has earned recognitions in the cybersecurity industry and has led the organization to multiple awards as one of the fastest growing companies in San Antonio, TX (2019 & 2020).
Kevin cox
director of commercial operations
                           Kevin Cox, has 20+ years of experience in the IT industry starting with an internship at AT&T back in 1998. After almost 10 years in product management & development at AT&T, Kevin spent 8 years at Rackspace during their IPO journey to becoming a public company in 2008. Kevin sat on the Rackspace Foundation Advisory Board from 2010 to 2014, was the Chief Research Consultant for the Battered Women and Children's Shelter from 2011 to 2016, and was also appointed to the Texas Judicial Commission for Children, Youth and Families by Texas Supreme Court Justice Harriet O'Neill from 2009 to 2013. He holds a Bachelor's and Master's degree in Economics from the University of Texas at San Antonio as well as post-graduate leadership courses at UT in Austin. Kevin's experience in the commercial arena is an asset to Def-Logix which is one of the fastest growing companies in San Antonio, TX (2019 & 2020).
Def-Logix is the parent company of Cyber Ops Training Academy and accelerated cybersecurity BootCamp. We aim to develop a strong Cybersecurity workforce by focusing on successfully training people to meet the demand of the new digital landscape. We pledge to prepare and inspire people to pursue careers that ensure our organization's security .
Click here to visit the Cyber Ops Training Academy and learn more.