2020 is around the corner.
Just saying 2020 sounds well, very futuristic. Predicting the biggest technology trends for the new 'roaring 20s' is all dependent on the rise of the digital economy.
To many analysts on the internet and in publication, by 2023 over half (52%) of global GDP will be accounted for by digitally transformed enterprises.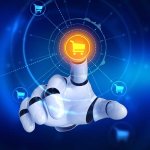 To foster this push for digital supremacy, an enterprise must devote half of its budget to supporting digital innovation, establishing a large-scale, set of high-performing digital innovation factories which in turn lead to a third-party ecosystem to produce the best digital products.
So, with these largely digitally supreme enterprises, almost everything new will embed AI in some way, shape or form. Given the continuously evolving competitive requirements in every industry, these AI-enabled enterprises will be able to sense and respond in half the time than their competitors to any change in their markets.
With so much of a reliance on AI—along with the information data sets that feed it–we will see the emergence of a new executive role—the Chief Trust Officer—a role that will oversee data security and privacy and ethical considerations, among other tasks requiring closer scrutiny.
One very important new skill and expertise trait for an entire leadership team of a digital-first enterprise is to have excellent peripheral vision. Though many may see it as alarming or negatively, traditional boundaries are rapidly disappearing and to participate in new economies that carve up offerings from different industries, executives will need to better understand how their own industry and markets inter-connect to other industries. A true sense of convergence will be needed to help all the industries align. What all this will do, is ultimately weave a strategically holistic experience for customers.
One best example is AI-driven cars will rely on the overall driver & passenger experience more so than say, just the car.
So, with that said here are some tech trends that should take shape in 2020 and beyond.
A world of connected clouds:
By 2022, 70% of enterprises will integrate cloud management across their public and private clouds. This will be done by deploying unified hybrid/multi-cloud management technologies, tools, and processes.
There will be an Edge build out:
Predicted by 2023, well, over 50% of new enterprise IT infrastructure deployed will be at the edge rather than just corporate data centers. It would not be shocking if, by 2024, the number of apps at the edge will increase 700%-800%.
There will be an industry apps explosion:
In 2023, over 500 million digital apps and services will be developed and deployed using cloud-native approaches. With most of these apps being targeted at industry-specific most of those targeted at digital transformation use cases.
The unavoidable AI:
Ah yes, the biggest concept or buzzword in tech that we cannot escape known as AI…well by 2025, at least 90% of new enterprise apps will embed AI into their structure. A previous year from that, 2024, it is said over 50% of user interface interactions will use AI-enabled computer vision, speech, natural language processing and a combination of some augmented reality or virtual reality.
Tech Platform Wars:
The Top 5 public cloud mega-platforms will consolidate at least 75% of the market share; the Top 10 pureplay SaaS vendors will generate an average of near 20% revenue from expanding their PaaS services.
5G gains just a bit more traction:
5G phone sales were pretty skim in 2019 with some of the latest iterations of certain models not even being 5G-compatible and many mobile carriers still not fully integrating a 5G network. But while 5G adoption will undoubtedly jump in 2020 as more devices and chipsets allow for use of 5G regularly, I am not sure this will to total smartphone sales. Like a lot of consumer tech (like OLED and if it's worth the jump), consumers will need to be convinced that 5G phones will deliver much better (rather than just incrementally better) user experiences than comparable 4G phones in the market now. But make no mistake, it will not shock me if 5G becomes more and more commonplace and by the end of 2020 becomes the norm.
2020 should be a rather fascinating year with lots of upward mobility in technological advancements which will become more and more commonplace as traditional enterprise and customers embrace the wave of the future.
Like and follow us on social media (we are on LinkedIn, Facebook, Twitter, and Instagram).
Also, we are accepting beta testers to try our machine learning-driven anti-malware application, Entrap for free! Sign up here.

Happy New Year!

Your business matters. Protect it.
Predicting the biggest technology trends for the new 'roaring 20s' is all dependent on the rise of the digital economy.