We make remote work secure
Def-Logix™ brings you the Security Gap Manager, our future-proof vulnerability scan and mitigate management solution, focused to protect the remote workforce. This tool helps you stay protected against vulnerabilities and misconfigurations, even if your end-users work outside your corporate boundaries.
The Def-Logix™ Security Gap Manager can help you overcome the challenges of securing your remote workforce and help you efficiently maintain good cyber hygiene by: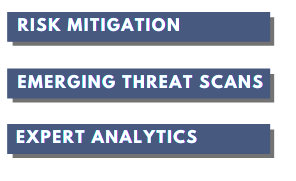 Perfectly equipped to handle a distributed workforce
✓ Mitigate emerging threats
✓ Unlimited Scans PER device
✓ For Individuals, Small Business, & Enterprise
OS Requirements: Windows 10
The Def-Logix™ Security Gap Manager is the licensed version of the free Security Gap Analyzer and Mitigator tools. This tool is targeted at system administrators. It scans, monitors, and optionally mitigates a predetermined set of security, privacy, and audit targets per Def-Logix's analysis of best practices. Requirements of this tool are administrative rights otherwise the tool will not be able to perform most functions. It scans or mitigates on demand, allowing the user to opt-out of certain mitigation targets, and generates a user-friendly report that gives the users a first glance view of the current state of the system, the risk level, and weighted severity distribution via pictorial dials charts and graphs. The report lists details of each security target and its status along with an explanation of why it is important to mitigate the risk. In rare unforeseen circumstances, the user may want to revert or undo the mitigation to preserve some settings and the tool provides a Rollback button for this purpose. It maintains a history of security mitigation on the device. The mitigator also maintains an event log that can be viewed in Windows Event Viewer and collected over the corporate domain by system administrators.
The Def-Logix™ Security Gap Manager is recommended for all businesses that are looking to secure their assets. Businesses have experienced a considerable increase in cyber-attacks due to the surge of remote workers. This tool will allow IT, administrators, to manage all their asset's security and get in-depth analytics as a whole or dive deep into an individual system. Welcome to the IT security team at home era!