The students of Cast Tech High School

On November 7th at the San Antonio Technology Center building, 20 of San Antonio's best and brightest high school students, their teachers, and Def-Logix employees united for IT Job Shadow Day. IT Job Shadow Day is organized by SA Works, a division of the San Antonio Economic Development Foundation. The purpose of the IT Job Shadow is a day for high school students from around San Antonio to interact and get involved with local businesses and see first hand what a career in cybersecurity/IT field looks like.
The 20 students came from Cast Tech High School, who work hand-in-hand with industry partners to prepare students for promising careers in technology and business, both fields yielding high demand for talented workers. Some of the features unique to Cast Tech High School include flexible schedules, hands-on-projects and real-life problems to solve, in addition, job shadowing, mentorships, internships and even job opportunities upon graduation.
Who We Are
Def-Logix, is a cybersecurity research and development firm highly involved with the United States Air Force and DoD so much of our work is highly confidential. Though the students from Cast Tech High School couldn't walk around our offices due to the confidential nature of our work, we kept their interest with numerous speakers from within our company who covered a wide variety of technical issues related to cybersecurity.
Secrets of Security using 2-Factor Authentication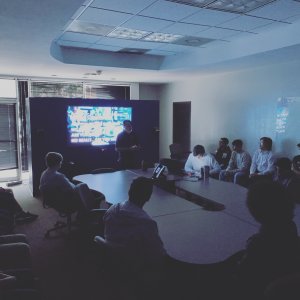 Our first speaker, Chase Hammock covered the Secrets of Security Hardening using 2-Factor Authentication and Enterprise Password Management. Chase informed all students and teachers in the room that protecting yourself from cyber-criminals is important and through the presentation demonstrated relevant and useful information with instructions on how to lock down key web application accounts using 2-Factor Authentication techniques and Enterprise Password Management systems. During this presentation, Chase explains how attack vectors such as spear phishing and database breaches can lead to account username and password acquisition by hackers and cybercriminals. The tech that was talked of was authentication devices such as Yubikeys and NFC keys, the use of 2FA on your smartphone and even some suggested 2FA providers.
Social Engineering Hacking is done on your Phone
The next presenter was Def-Logix employee Justice Yao who graduated from UTSA not too long ago and brought his youthful approach and relatability to his presentation. During Justice presentation, Justice would cover how social engineering hacking works. Social engineering is a technique used by criminals and cyber-crooks to trick users into revealing confidential information. These days, we put so much information on our phone ranging from credit card/bank information in digital wallets to personal information on our social media profiles. Justice mentions that criminals who take over your cell phone pose as employees of a company or organization, say a bank or ISP, and after going through some typical questions and statements in an effort to gain the trust of the potential victim, then the user is asked what their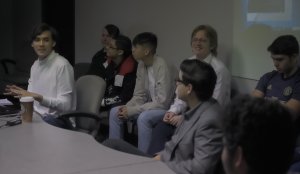 login credentials and passwords are. Sure enough, Justice was able to tap into a cell phone and take over the mic and video camera, both dangerous as hackers can spy on the compromised device and record sensitive information.
Some other Def-Logix employees stopped by to present on topics such as "Automating Task to Get Things Done" and even Web Development or as our very own Jared Kirkley says "Why JavaScript is the best programming language to know".
And in comes our President/CEO to say hello
When the day settled in and the presenters were done, the Cast Tech High School students were treated an army's worth of pizza and caffeinated soft drinks (Both of which they loved!). Discussions happened around the table about which programming languages were essential to know, why working in a Linux environment allows so much freedom and the best VM software to use for different situations.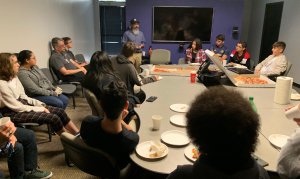 The students then got a chance to meet our CEO and President Paul Rivera who offered some tips, insight, and pointers on how all these brilliant students can be successful now and in the future.
Far beyond their years, many of the students asked Paul what is expected of leadership in a company, a company like Def-Logix. Paul answers with "I think communication is key. Knowing your team members and their strengths and weaknesses. Sometimes someone is stuck on your team and being a leader and recognizing when someone is stuck and identifying that problem and bringing in the resources to make them unstuck".
While continuing to munch on pizza and down sodas, one student asked Paul what technological skills does Paul often seek for his employees. "I am partial to C Programmers who program in Windows (Kernal Programmers). But there are several positions we are seeking like system engineering where this individual will use hacker tools for testing and even some reverse engineering. Programming like Web Development and Rapid Database Development" says, Paul. Paul also points out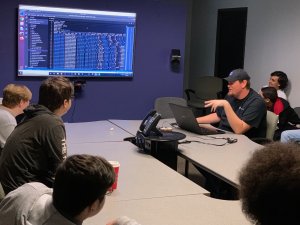 that indeed it is important to learn and know the ins and outs of Machine Learning. "Machine Learning is taking over the industry and that there are not enough Cyber Analysts, so Machine Learning is taking over the industry to go in place of the Cyber Analyst shortage.
And like that, it was a success
When the dusk had cleared from all the talks of cybersecurity, internet memes and even a set of quiz questions in which students got a chance to take home some nifty Def-Logix swag, Cast Tech High School left with a wonderful impression of Def-Logix and working in this highly lucrative and rewarding career field. SAISD Special Props Coordinator Mr. Fred Losoya commended how informative we were, how engaged the Cast Tech High School students were and just overall the experience being a highly positive one. IT Job Shadow Day was a resounding success. So much, Cast Tech High School want to come back for next year and are even already looking at possible internships. We say, after all, that it was indeed a success!
Like and follow us on social media (we are on LinkedIn, Facebook, Twitter and Instagram).
Your business matters. Protect it.
When the dusk had cleared from all the talks of cybersecurity, internet memes and even a set of quiz questions in which students got a chance to take home some nifty Def-Logix swag, Cast Tech High School left with a wonderful impression of Def-Logix and working in this highly lucrative and rewarding career field.