Maybe it is time to consider an msp
It's a new year and your small business moves ahead into a foray of new challenges and opportunities; it is worthwhile to take some time to assess some concrete ways to step up your ITs' security posture.
What is an msp?

An IT MSP can be considered like a IT partner, one that coordinates and manages all or part of a business' IT systems and networks. Managed service providers remotely manage the company's systems and IT assets at their customers site (on-prem) or at a data center or somewhere off the premise. The variety of services MSPs vary by company and plan. A MSPs' services can range from monitoring your IT network to handling all repairs, updates, and patches, as well as providing new software, hardware, infrastructure, cloud services, and in some cases, staffing.
1. Predictable Low Cost
So, you are deciding on going the route of partnering with a Managed Services Provider. Will the cost be lower than hiring in-house IT staff?  The answer is yes. Choosing an MSP can also make your IT expenses much more manageable and predictable. Going the route of an MSP will allow you to pay either monthly or annually, therefore, allowing you to know and set your expected cost. In-house IT teams can come with some unexpected costs and issues that may prompt up.
Computer networks, especially on a grander scale, do come with equipment that needs to be maintained, repaired and replaced. Whereas an MSP provide maintenance as well as repairs and labor part of their contract. So, in just paying regularly. Your MSP, the cost associated with equipment repair will be absorbed instead by the MSP.
If you run a small businesses or medium-sized business, this model can immensely benefit because the up-front cost to start is so much lower.
2. Access to the experts
If you pair up with the right MSP, your business can get access to well-qualified personnel without doing the grunt work of recruiting them. Teams from MSPs' tend to be subject matter experts in the field of IT, so without a doubt you can put faith that if a technical issue does pop up, it will be resolved and taken care of with the upmost of professionalism.
3. A Preventive Approach
You never want to wait until something breaks to fix it. But of course, you cannot always predict when something will fail. With that said, if you do not have services from a MSP, something breaks, simple, you fix it. With networks, servers and data. However, the cost associated with those repairs can place a huge financial dent into your company's budget. Many factors go into the cost and those cost can quickly tally up into millions of dollars.
Strategically speaking, it's smarter to take a more preventive approach by partnering with a really good MSP than waiting for the fires to take place and then resolve it. Manage Service Providers will monitor your systems for problems and can resolve issues before they can become full-fledged catastrophes. Again, not to sound like a broken record here, but the cost associated would be a lot cheaper in the long run.
4. High-Level Cybersecurity and Backups
Going the route of an IT MSP typically means you want the highest degree of cybersecurity for yourself. MSPs are armed with the technology stacks and level of expertise to keep hackers at bay and from compromising your system.
An MSP can offer your company layers of the latest cybersecurity protection through tools such as firewalls, anti-virus applications, two-factor authentication, password management, network monitoring, filtering, and other protective measures. In addition, MSPs will also utilize tools that will identify your company's cybersecurity weaknesses and provide training to improve your employee's online behavior and increase overall awareness of what constitute as cyber threats.
Even in the event, cybercriminals do overcome the formidable first layers of cybers defense, an MSP can also provide robust cloud-based back ups of your company's critical data. In the event of a harmful man-made or natural event, an MSP can quickly restore operations with backed-up data and applications getting you back into business and saving valuable dollars along the way. That is definite peace of mind that is good to have.
5. Freeing Up of Dedicated Resources and Assistance with IT Strategy and Projects
If you work with a reputable MSP, your place of business can take time to carefully reassign dedicated IT and other internal resources to do other task more needed for growth. You can look at an MSP as sort of an advisor, again, because they provide expert advice and know-how to free up your internal IT staff. An IT MSP will also be a powerful resource in helping your company plan and execute IT projects such as transitioning to new hardware and software tools.
Here are some of the key provider areas that Def-Logix can add value in, which this graph demonstrates just how much revenue is expected to be generated in these key areas.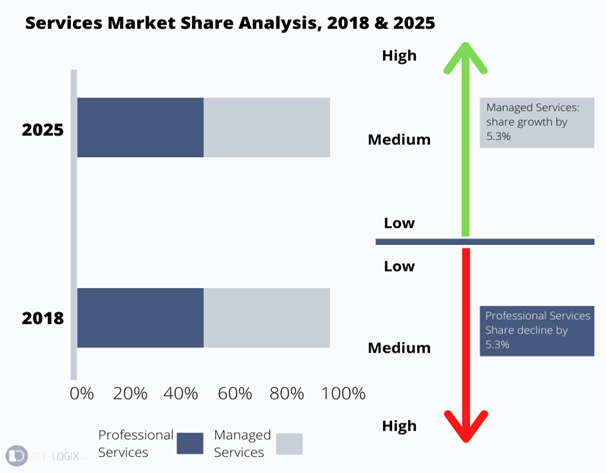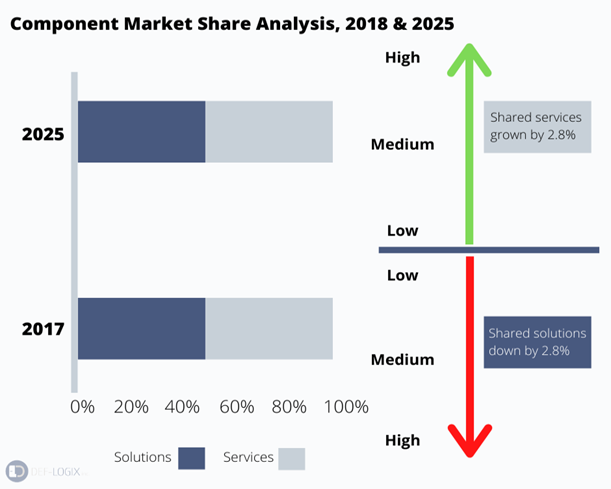 Let Def-Logix manage and safeguard your valuable company IT assets today! Contact us at info@def-logix.com for more info.
And as always: Your business matters. Protect it.
"If you pair up with the right MSP, your business can get access to well-qualified personnel without doing the grunt work of recruiting them. "