It is reported that the worldwide cyber security market is expected to reach roughly $167 billion in 2019. And that number does not appear to be slowing down and only appears to be going up given the amount of attacks and wealth that is stored online. Criminals are going exactly where the money is at and that trail chances are, leads to you and your business.
Here is the level of growth put into a more graphical depiction. This info graphic demonstrates the numbers by analyzing the market size of cyber security from 2017 to 2023 (check out more at https://www.broadbandsearch.net/blog/business-cyber-security-facts-statistics):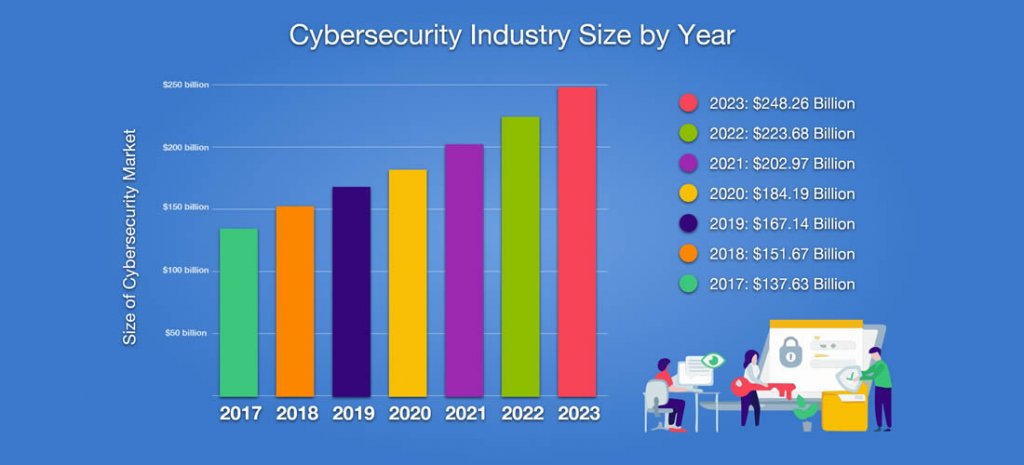 Here is a list of good business practices (or cyber security tips) to better equip yourself to guard against malicious web sites, automated attacks through bots and other similar tools and crafty ways cyber criminals will engage to cause peril to your assets.
Secure and empower your small business with great technology practices
1. Train your staff to know basic security principles and protocol
Your place of business should clearly lay out basic security practices and policies for employees. This includes of course strong passwords, and establishing appropriate Internet use guidelines.  Create rules of behavior that describe how to handle and protect customer information and other vital data. Extremely relevant if your company deals with very SENSITIVE data.
2. Protect your tech infrastructure such as information, computer and networks from cyber attacks
This goes without saying. But yes you should ALWAYS keep your computers and other devices on your company network safe guarded. The best ways to protect your devices are having the latest security software, web browser(s), and operating system are the best defenses against viruses, malware, and other online threats. Always install other key software updates as soon as they are available to keep it up-to-date and current as developers of software always find ways to counter act cyber criminals and hackers by implementing better security features and functions within their programs.
3. Have a firewall security for your internet connection
Just like suggestion number 2, make sure all operating systems firewall is enabled. If you have remote workers ensure that their devices have firewalls enabled in the operating system.
4. Create a mobile device action plan
Mobile devices are not going anywhere and only becoming more advanced. Ensure there is significant security and management policies in place. This certainly holds true if the mobile device has  confidential information or can access the corporate network. It is best to require users to password-protect their devices, encrypt their data, and install security apps to take preventive measures to ensure their mobile devices are not attacked.
5. Back up your companies important business information
Have your system admins backup the data on all work machines. Data that is critical can be anything from word processing documents, electronic spreadsheets, databases, financial files, human resources files, and accounts receivable/payable files. Back up. Back up and back up some more. If at all possible at least once a week store the copies off site or in the cloud that needs to be protected itself.
6. Put control measures so not anyone can access your computers and create user accounts for each employee
Stop anyone unauthorized to access company computers in your place of business.  Laptops in particular are easy prey for theft and can be lost so lock them up if unattended. Make sure a separate user account is created for each employee and require strong passwords. Have your most trusted administrative IT staff have administrative privileges. They are the gate keepers to protecting your assets.
7. Make sure your wi-fi network is protected
Make sure your wi-fi network is secure, encrypted, and hidden from any eyes to just see. Have your system administrator or network admin set up your wireless access point or router, so it does not broadcast the network name, known as the Service Set Identifier (SSID). And make sure a password is required to login to the network.
8. Be smart and safe if your business deals with financial transactions
If your company does any e-commerce always ensure only trusted individuals handle transactions in your company. Get and utilize the most trusted and validated anti-fraud service tools to protect all transactional data exchanges so hackers cannot access information.
9. Limit who can install software
No one employee should have access to all system data. And employees should only be given access to software that is required to do their job and that can be managed by a system administrator. Stay away from installing any and all free software unless validated or company approved. Software should be kept track of.
10. Use STRONG passwords
This should be a gimme. But please require all your employees to use unique passwords that are strong and ensure employees change their passwords regularly. A good rule of thumb is perhaps updating every 3 months. Require employees to use unique passwords and change passwords every three months. Stay away from using birth dates, social security numbers, driver license or ID numbers–basically anything associated with the individual that can be found online or elsewhere.
We hope these 10 tips are a good foundation to establishing a safe framework for your business. Def-Logix creates custom cyber security solutions and are looking to help serve you to better protect yourself because we believe your business matters. Protect it.
Give us a like and follow us on social media (We are on Facebook, Twitter and LinkedIn) to stay in tune with all things cyber security.
Source(s): fcc.gov, broadbandsearch.net
It is reported that the worldwide cyber security market is expected to reach roughly $167 billion in 2019.